5 May 2023 Daily Mail UK
22 August 2022 
17 August 2022 Al Jazeera
8 August 2022 – Evening Standard UK
29 June 2022 – Daily Mail UK
John Major, former Prime Minister, says tainted blood scandal that cost so many lives was just "bad luck"
28 July 2021 – The Guardian
28 July 2020 – Fairfax Media
Children have died: Britain to probe Australia's infected blood scandal
3 October 2019
Victims say it's time for a UK-style inquiry into the Australian tainted blood scandal
29 April 2019
Thousands of Australians will be looking to London this week for the start of a major blood scandal inquiry
24 September 2018 – Fairfax Media
Shattered and praying: the Australians looking overseas for justice
13 February 2018 – Fairfax Media
Victims of Australian tainted blood scandal in new fight for justice
15 July 2017 – The Sydney Morning Herald
UK Prime Minister Theresa May has thrown Australian 'tainted blood' victims the ultimate lifeline
15 July 2016 – The Sydney Morning Herald
How governments failed to stop the catastrophic impact of 'tainted blood' on thousands of people
12 July 2016 – The Newcastle Herald
A bloody minded silence
The Australian Government in 2005 considered apologising to "tainted blood" victims.  They're still waiting.
11 April 2015 – The Daily Mail UK
19 August 2011 – Daily Mail UK
THE BLOOD SCANDAL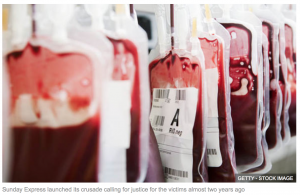 Blood is life.  In transfusions it saves millions of lives every year. Blood also provides plasma – a precious liquid used in the manufacture of various medical products that are indispensable, particularly for haemophiliacs.
But between 1980 and 1988 the lifesaving act became synonymous with death throughout the world;  30,000 haemophiliacs and tens of thousands of transfusion recipients were victims of blood that was infected with the Hepatitis C and HIV viruses.
This is the blood scandal.
A single product requires the blood of thousands of donors yet a single sick donor is enough to contaminate everything.
In the USA, Canada, Japan, Germany and France, the contaminated blood affair was the biggest medical catastrophe of the century.
Cynicism of blood industrialists, incompetence, negligence, corruption and blindness of certain governments and certain sections of the medical profession, the catastrophe is still with us — men, women and children are dying every single day.
…"A Blood Scandal" [2000], SBS TV, telecast 12 June 2001.