Exposing an hospital and government cover-up
How one woman's needless death led to a nation-wide movement to prevent 'death as a result of hospital care'.
Lorraine Long founded Medical Error Action Group (MEAG) in August 1996 after a two-year battle to uncover the circumstances of her mother's death at Melbourne's Alfred Hospital.  June Long had been admitted after an asthma attack in June 1994 and died 14 hours later.
The cover-ups
Compounding the shock of June's sudden, needless death were the cover-ups, hostility from hospital administrators and evidence that hospital lawyers tried to intimidate doctors from giving evidence at an inquest.
Coroner's Finding
After two years the State Coroner of Victoria Graeme Johnstone found that Melbourne's Alfred Hospital contributed to June Long's death.  Coroner Johnstone observed, 'Unfortunately, there is no evidence that the lessons learnt by similar internal review processes are generally recorded and distributed throughout the hospital/medical system' … and … 'it is essential that all serious incidents involving iatrogenic injury/death be internally examined at hospital level'.  June's death is formally defined as iatrogenic, that is, caused by medical therapy, especially of complications from treatment.
Seeds of action sown
Two years passed from June Long's death and the coroner's finding.  "No-one should have to go through such extraordinary efforts to find out how their mother died", recalls Lorraine Long.  "That's why I felt compelled to form the group and educate others on what they're in for."
Her first call was to a woman whose husband's body had been lost after he died in hospital.
"We talked for hours and although the circumstances were different, what we'd been through was identical."
Similar stories surface
Working from home, Lorraine began contacting other bereaved families who felt they had been mistreated by the hospital system.  One by one, they told her similar stories.
"Every door had shut in their face.  No one would assist them, everyone had to fight to just be heard, let alone to get the coroner to investigate", she says.
"Families did their own pushing. No one helped, not the health department, not the health complaints commission, not the Ministers for Health.  Hospitals were hostile.  It just became a pattern."
Getting the media on to it
Lorraine approached Channel 7 "Real Life" and ABC TV "Four Corners" who separately aired a series of programs detailing mishaps in hospitals.  This generated more publicity and the group grew.
The groundswell begins
By 1999 it had moved into a small office, staffed by a handful of volunteers and supported by co-ordinators in state capitals and regional centres.  It runs on donations and has helped thousands of families who contacted its network, mostly relatives of people who died in hospital but a good many patients who survived.
The heart of the group is bereaved families, along with surviving patients and concerned medical professionals.  "Our support network is therapeutic for families.  They've got someone to talk to.  They can sound off.  But forcing change onto the health system is equal top priority."
Awareness campaign
MEAG's major successes have been through the media.  MEAG commentary is almost always heard when journalists take interest in medical crises.  With access to formal research and tip-offs from hospitals, forensic pathologists, clinicians and anonymous sources, MEAG has become a prime media reference point.
Airing the touchiest of subjects
The most notorious case exposed by MEAG so far is "the Butcher of Bega".  MEAG released the scandal to the media out of desperation to get something done.  It activated one authority, the NSW Police Force.  MEAG's evidence to the police led to the creation of special task forces including Strike Force Tarella.
Bad doctors cause endless misery
"There are very few truly bad doctors or nurses", Lorraine believes, "but those few create endless misery."  "The medical system is still covering up when it should be penalising dangerous practitioners and barring them from practising medicine. We will use the media to force hospitals to be honest and governments to face facts and reduce the horrific death toll."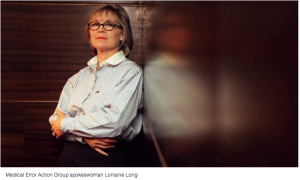 Support our work  MAKE A DONATION