94 Health Ministers later…  still 1 Medical Error Action Group!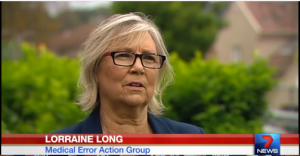 Our exposés have featured in all media —
Television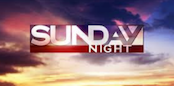 AUSTRALIAN BROADCASTING CORPORATION 
ABC TV "FOUR CORNERS"
E.R. Emergency Roulette, Oct 1995 — Mick O'Donnell, reporter

Hospital Emergency, Sept 1996

Dead and Buried, July 1998 — Andrew Fowler, reporter

Adverse Outcomes, Feb 2001

Killed By Care, July 2006
ABC TV "HEALTH DIMENSIONS"
Doctor-Patient Communication, Oct 2001
ABC TV "COMPASS"
A Blaming and Claiming Society, Nov 2001
ABC TV "7.30 REPORT"
The Danger in Australian Hospitals, March 2002; April, June, Aug 2004

Australians tell of breast implant ruptures, Jan 2012

ABC TV "LATELINE"
The Medical Indemnity 'Crisis' – A Common Sense Plan To Get Out Of The Whole Mess, April 2002

Tony Jones talks to Lorraine Long
ABC TV "STATELINE"
Hospital deaths inquiry inadequate, Nov 2003

Dead and Buried, Aug 2007

The week in Bega, Mar 2008
ABC RADIO "THE LAW REPORT"
Coroners' Death-Defying Decisions, Oct 2000
ABC RADIO "AUSTRALIA TALKS BACK"
Medical Indemnity, Dec 2000

Hospital Safety, Aug 2001
ABC RADIO "AM"
ABC RADIO "PM"
ABC RADIO "THE WORLD TODAY"
Medical mistakes – A silent epidemic in Australian hospitals
NINE TELEVISION NETWORK AUSTRALIA "SUNDAY" investigative affairs
Death By Bad Medicine, July 1999

Some Doctors Make You Sick, May 2000

Medical Secrecy, Oct 2001

A Hospital's Secret, Apr 2002

Tainted Blood, Nov 2002 — Helen Dalley, reporter

Junkie Doctor, Nov 2003

Hospitals In Crisis, Feb 2004

Who Watches the Doctors? Feb 2008 — Ross Coulthart, reporter

The Butcher of Bega: Australia's worst medical disaster? Mar 2008 — Ross Coulthart, reporter

Questions surround the Butcher of Bega over deaths, May 2008 — Ross Coulthart, reporter
NINE TELEVISION NETWORK AUSTRALIA "A CURRENT AFFAIR" current affairs
Accidental Deaths …Fatal Flaws In Our Hospitals, May, Nov 2000; July 2004; June 2005

Nambour Hospital Baby Deaths, Aug, Sept 2001

Queensland Health Rights Commission, Sept 2001

Drug-Addicted Doctors, March, Apr, June 2006; July 2007

Hay and Griffith hospital blunders, April 2009

Many more, lost count..

What to ask before going to hospital, May 2014

Elderly patients discarded, March 2017

Recurring guest…
NINE NETWORK AUSTRALIA "60 MINUTES"
Condition Critical, Nov 2003

Outbreak, June 2005
SEVEN NETWORK AUSTRALIA "TODAY TONIGHT"
Medical fiascos out west, Jan 1998;

Hospital Disasters, Jan 1998; Apr 2000

Recurring guest…

GERMAN TV "TAFF PRO7″                              
Medical Negligence Down Under, Nov 2002
SBS TV AUSTRALIA "INSIGHT"
Condition Critical, May 2004

Doctor Accountability, Apr 2008

State of Emergency, Sept 2009
NETWORK TEN AUSTRALIA "THE PROJECT"
Sick doctors not good for sick patients, July 2015
Print media features
THE AGE, MELBOURNE, "INSIGHT: INVESTIGATIONS"
Fatal Care: Errors Exposed, Nov Dec 1999; May 2000; Feb 2002

How Our Public Hospitals Hide Their Blunders, Nov 1999

After Death Comes The Struggle For The Truth, Nov 1999

When Death Brings Down the Curtain, Nov 1999

These are the figures the hospitals didn't want you to see, Nov, Dec 1999; Feb 2002

The Flaws of Death, Dec 1999

A Patient Looks for Truth and the Onus of Care, Dec 1999

It's a War on Germs, Feb 2000

Duty of Care Falls Short, Feb 2000

Super Bug Infects 33 Babies, Feb 2000

Plus too much to list…
THE DAILY TELEGRAPH, SYDNEY
Hospitals In Crisis, 2002 – 2008 running series
THE SUNDAY TELEGRAPH, SYDNEY
The Butcher of Bega – Hundreds betrayed by doctor, Feb 2008

Butcher linked to 15 deaths, May 2008

  …and countless other
THE BULLETIN
Broken Trust, 17 Aug 2004

The Abominable Dr Patel, 14 June 2005

Emergency Call Bad Medicine, 5 Sep 2006

Emergency Call Response, 12 Sep 2006
READER'S DIGEST
Jaxson's Story, July 2005
WHO
Medical Disasters, 13 Nov 1995

Bitter Pills, 22 Nov 2004

Bad Medicine, 14 July 2008
AUSTRALIAN DOCTOR
Collateral Damage, March 2008

Graeme Reeves: Secrets and Lies, March 2008

The lay media have described them as an independent health watchdog, but who are the Medical Error Action Group? 28 Mar 2008

The long way round – Founder of Medical Error Action Group, Lorraine Long, has no beef with doctors, 4 Apr 2008

Acting Against Error, 4 Apr 2008

The case of disgraced obstetrician Graeme Reeves has brought a patient lobby group into the media spotlight, 4 Apr 2008

A decade of campaigning against medical error, 4 Apr 2008
MEDICAL OBSERVER
Ending the silence, 11 Mar 2008

NSW Medical Board may face lawsuit, 13 Mar 2008

Law to force docs to dob in peers, 14 Mar 2008

Audit of conditional practice ordered, 14 Mar 2008

Medical standards scrutiny, 20 Mar 2008

Dr Shame: Who's to blame, 28 Mar 2008
MADISON
Heroin, Coke & Dope: The Shocking Reality of Doctors on Drugs, Oct 2006

Bad Medicine, June 2010

Butcher of Bega: How his crimes went unnoticed, Aug 2011
Publicity is the soul of justice
Far from complete, this list gives you some idea of the reach of the Medical Error Action Group's awareness campaign through media around Australia and overseas.
Like our work?  Support our work!
There were an estimated 36,000 needless deaths due to medical error in Australia last year. Appallingly, such figures have made medical error the No 2 killer in Australia. Help Medical Error Action Group continue its work and… MAKE A DONATION