SYDNEY — An elderly dementia patient acquired a myriad of cuts and bruises while in hospital – and now her family are demanding answers.
The 83-year-old woman received treatment at Hornsby Ku-Ring-Gai Hospital, north of Sydney, before her family collected her last Thursday, 1st October 2020.
When they picked her up, she had bruises running up her arms, across her face and on her neck.  She had skin falling off her forearm.
It took five days for a representative of the hospital to answer the family's questions over what happened, saying she suffered two falls.
"I was broken-hearted, shocked, just couldn't believe the state she was in," daughter Tracey McCarthy told 7NEWS.
However, with bruises around her neck and blackened eyes, the family and others are struggling to understand how this happened.
"Bruises around the neck? I mean what's that from?" Lorraine Long from the Medical Error Action Group said.
Police, however, say there is no evidence any sinister took place.
Detectives interviewed staff and the woman herself – but she was not of much help given she didn't remember sustaining the injuries at all.
THIS IS AFTER HOSPITAL TREATMENT!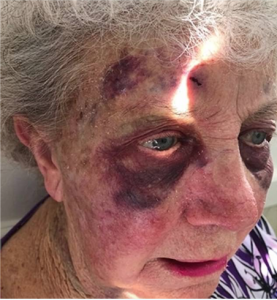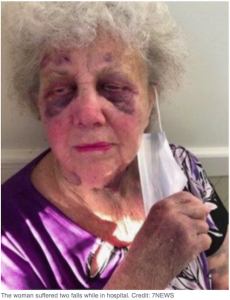 For more of 7NEWS and The Daily Mail see:
Family of elderly dementia patient demand answers over relative's bruises in hospital care
Family horrified after 83-year-old dementia patient suffers injuries at a Sydney hospital