Women used as guinea pigs.  Reproductive organs damaged, permanently. Deliberately?  A nice little money earner for the botchers.  Who listened when concerns first surfaced?  NO ONE.  Big Pharma went on to its mammoth profits at the expense of human misery.  Women were and are collateral damage. Another stuff-up by Australia's medicines regulator, the inept TGA (Therapeutic Goods Administration).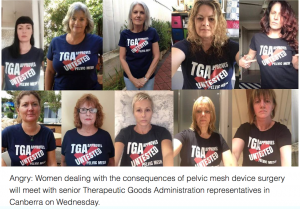 Much to report.  Stay tuned.  Earliest articles at top, latest at bottom.
18 MARCH 2016
The NSW Health Care Complaints Commission has confirmed investigations over mesh surgery
19 MARCH 2016
23 MAY 2016
We are the evidence of what's gone wrong
14 MARCH 2017
Serious questions to answer on pelvic mesh
14 MARCH 2017
Pelvic devices hit by allegations of research fraud, experimental surgery on thousands of women
16 MARCH 2017
Regulator quietly reveals pelvic mesh risks
23 MARCH 2017
26 APRIL 2017
Outrage over mesh prosecution failure
1 MAY 2017
4 MAY 2017
Pelvic mesh: Suffer in silence
29 MAY 2017
Pelvic mesh exposes a system that's failed
7 JUNE 2017
Vaginal mesh controversy shows collective failure of the TGA and Australia's specialists
29 JUNE 2017
Top priority for mesh inquiry?
3 JULY 2017
Regulators failed across the board on mesh
4 JULY 2017
Pelvic mesh victims in landmark action
4 JULY 2017
Vaginal mesh implant class action lawsuit
27 JULY 2017
1 AUGUST 2017
Whistle was blown on pelvic mesh
22 AUGUST 2017
AMA pelvic mesh support 'not our finest hour'
5 SEPTEMBER 2017
Health doctors fight crusade against vaginal mesh
30 SEPTEMBER 2017
Johnson & Johnson's 'irresponsible' actions over vaginal mesh implant
30 OCTOBER 2017
30 NOVEMBER 2017
30 NOVEMBER 2017
Pelvic mesh implants banned in Australia – Marie Claire
1 DECEMBER 2017
Women warn they won't stop until a total ban on pelvic mesh
3 DECEMBER 2017
Australian women's grief after mother's death linked to pelvic mesh
21 DECEMBER 2017
Woman's death after pelvic mesh complications – the pain is just too much
30 DECEMBER 2017
Woman told to 'self-catheterise for rest of her life' after pelvic mesh surgery by Dr Richard Reid
3 JANUARY 2018
Derryn Hinch's grim warning after suicide of pelvic mesh victim
24 JANUARY 2018
Johnson & Johnson withdraws gold standard pelvic mesh slings from Australia
20 MARCH 2018
Doctors warn of 'women problem' after pelvic mesh scandal
28 MARCH 2018
A 'catastrophe' for some women: pelvic mesh report
2 APRIL 2018
Countdown to a mesh scandal: how a system failed women
11 APRIL 2018
Court told pelvic mesh pain may be 'untreatable'
24 SEPTEMBER 2018
Tribunal slams gynaecologist for multiple failures
25 SEPTEMBER 2018
'Like we've been raped': mesh-injured women slam governments
4 MARCH 2020