French court orders damages for victims of PIP breast implant scandal
20 May 2021
Europe —  German firm TUV Rheinland was negligent in awarding safety certificates to a French company which made faulty breast implants, a Paris court ruled, a decision advocacy groups said paved the way for thousands of women worldwide to seek damages.
More than 300,000 women received implants that were made in the 10 years up to 2010 by PIP (Poly Implant Prothèse) and filled with cheap, industrial-grade silicone not cleared for human use.
Aumaitre said the court's ruling meant that TUV's negligence left it solely responsible for paying damages.
"After 10 years of waiting and fierce combat, the German certifier will have to fully compensate the victims," said Aumaitre.
Read the full report by Matthieu Protard and Richard Lough of Reuters:
French court orders damages for victims of PIP breast implant scandal
More dodgy breast implants out there
25 September 2015
Breast implants and 23 other surgical devices made by Brazilian manufacturer "Silimed" have been suspended from use in Australia because of contamination fears.
What?  This wasn't picked up when they landed on the Australian market? What was our medicines regulator, the TGA, doing?
A European regulatory inspection of the Brazilian factory found the surfaces of some devices were contaminated.  The devices were then suspended in Europe and the UK this week.
Thousands of products are sold in Australia by the sponsor, Device Technologies.
The TGA is supposedly urgently investigating to determine what action is required in Australia.
Taking them off the market would be a good start!
Faulty PIP breast implants replaced with now recalled brand "CEREFORM" – hundreds of Australians may be affected
1 April 2014
Authorities do not know how many Australian women had faulty French breast implants replaced with a second, now recalled brand.
Last month the Therapeutic Goods Administration (TGA) announced the Australian distributor of PIP breast implants, Medical Vision Australia, had pulled its CEREFORM implants from shelves following a recall in France.
Surgeons condemn 'appalling' lack of action on cosmetic surgery
13 February 2014
MEAG COMMENT>> This is a fascinating story from The Guardian, London.  After the whole sorry PIP implant disaster, this line sums it up best…."Cosmetic surgery will continue to be the wild west of medicine…"
Cosmetic plastic surgery appalling regulation – Keogh Report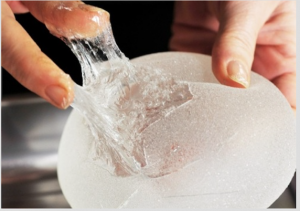 Jean-Claude Mas PIP breast implant boss charged with 'unintentional harming'

PIP breast implant firm denies fraud over faulty implants
17 May 2013 
MARSEILLE, FRANCE>> Lawyers for the French breast implant firm PIP have used the final day of a fraud trial to deny knowingly making faulty implants. The incident sparked health scare affecting thousands of women around the world.
In closing arguments at the court in Marseille, lawyers for the five PIP executives on trial defended the implants' safety, and called for lighter sentences than the four years of jail requested by prosecutors.
The trial, once of France's biggest legal proceedings in recent history, began in April. 

The defendants, including PIP founder Jean-Claude Mas, are accused of aggravated fraud for using cheap, industrial-grade silicone in breast implants for 10 years.
The defendants are:
PIP founder Jean-Claude MAS;
Chairman of the board of directors Claude COUTY;
Director of production manager Loïc GOSSART;
Technical director Thierry BRINON;
Quality director Hannelore FONT.
"A large percentage of the victims had NuSil gel (a medical-grade gel made by a Californian company) in their implants," Mas said. Mas reiterated that the gel used by his company was "not toxic or dangerous."
News of the faulty implants broke in 2011 when doctors began reporting an unusual number of ruptures in PIP implants. But health officials in various countries have said the implants were not toxic, nor did they increase the risk of breast cancer.
More than 4,000 women reported ruptures, and in France alone, 15,000 women have had the PIP implants replaced.
PIP implants were soon banned and the company, once the third-largest global supplier of implants, was quickly wound up.
More than 5,200 women joined the class action suit, including around 220 women from overseas.
The month-long trial saw prosecutor Jacques Dallest call for Mas to pay a €100,000 fine and to be banned from working in medical services or from running a company.
Some of the defendants, including Mas, have also been charged in separate and ongoing manslaughter and financial fraud investigations into the scandal.
The court is due to deliver its verdict on 10 December 2013.
FRANCE –
Article published the Friday 17 May 2013
Reuters/Philippe Laurenson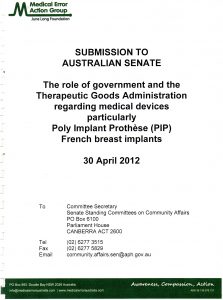 Breast implant ruptures to soar
29 January 2012
Cosima Marriner
The Sun-Herald
THREE times as many Australian women have had PIP breast implants rupture than first thought, the medicines watchdog has said, warning the number of those affected by the faulty device will rise.
The Therapeutic Goods Administration (TGA) initially received 37 unconfirmed reports that implants made by the French company Poly Implant Prothèse (PIP) had leaked. It has now revised the figure to 102 confirmed cases and 14 unconfirmed.
But the Public Health Association of Australia predicted the rupture rate would rise dramatically. Its chief executive, Michael Moore, said given the standard breast implant rupture rate was one in 10 over 10 years, the estimated number of women affected by leaking PIP implants would climb to more than 1200.
"We can confidently say there will be more," Mr Moore said yesterday.
The TGA has told surgeons supplied with PIP implants to contact each patient for a check-up. It also expected the number of patients reporting their breast implants to have ruptured to increase.
"At this stage there is insufficient evidence of a problem with the Australian supplied implants to warrant routine removal of the implants that have not ruptured," a TGA spokeswoman, Kay McNiece, said yesterday.
The federal Minister for Health, Tanya Plibersek, was yesterday unwilling to upgrade her advice. When contacted by The Sun-Herald, a spokesman for Ms Plibersek said: "The minister continues to receive regular updates from the Chief Medical Officer and the TGA who are constantly evaluating information from around the world."
He also advised women who have concerns to contact the Breast Implant Information Line. There have been more than 2000 calls to the line, set up in response to the issue.
The TGA recalled PIP implants in April 2010 after French authorities found they had abnormally high rupture rates. PIP was shut down after concerns it was using industrial silicone, not medical-grade silicone, for implants. The TGA estimates 12,300 PIP implants were sold in Australia between 1998 and 2010.
Ms McNiece said health authorities were working with experts locally and overseas "to obtain more comprehensive information that will help further inform the risk assessment of this situation."
The TGA's updated figures for ruptured PIP implants are more in line with those collated by the Medical Error Action Group.
Three weeks ago the group had received more than 100 reports of ruptured implants. The PIP scandal has exposed the inadequacy of the data the TGA holds on breast implant recipients.
The Sun-Herald recently revealed that the Australian Society of Plastic Surgeons is preparing to record the details of every breast implant patient, their surgeon and the type of operation on a national register of breast implants, which will act as an early warning system in the event of faulty devices.
The Society of Plastic Surgeons wants the federal government to fund the estimated $2 million it will cost to run the register every year.
with Sarah Whyte

12 January 2012
LONDON, ENGLAND>> CONTROVERSIAL breast implants at the centre of a health scare could explode if women hang up laundry or have rough sex, doctors have warned.
The Government has vowed to replace all 3,000 NHS-fitted PIP implants if patients want them removed.
But a total of 40,000 women in the UK had them fitted, leaving most relying on private sector clinics to replace them.
Today the Harley Medical Group, which implanted the pads in nearly 14,000 Brits, said it would not replace them for free. Chairman Mel Braham insisted it was the Government's moral responsibility to replace them because of poor regulation.
A second private firm, Transform, is also refusing to operate for free. It will cost women £2,800 to have the implants removed.
Reports have now surfaced of an Australian patient who had the PIP implants removed only to have two more made by the same firm put back in.  Her doctor had apparently told her that rough handling of washing caused them to rupture.
Lorraine Long, founder of the Medical Error Action Group Down Under, said in other cases women were told intense gym workouts, tight bras and excessive squeezing by amorous husbands were to blame.
The faulty implants, made by now-defunct French firm Poly Implant Prosthèse, were made with industrial-grade silicone intended for mattresses, boosting the chances they could rupture.  The pads have been found to contain a fuel additive and substances used to make rubber tubes.
French authorities shut down PIP last year.
11 JANUARY 2012  THE AUSTRALIAN
Health science reports of doctors blaming Australian womens' behaviour for rupturing breast implants