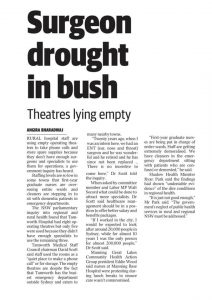 Read The Land 14 June 2021 and and see Queensland has a far better health system.  Queensland country is part of Queensland.  New South Wales, with more people, doesn't have same thinking or application.  Tell The Land your story or tell us:
Read the ABC News Mid North Coast Kerrin Thomas' story:
Disgraced gynaecologist Emil Gayed continued to operate due to inadequate oversight, regional health inquiry hears
     What happened, Minister?
AUSTRALIA'S RURAL TOWNS – THIS IS WHAT NSW HEALTH DEPT CALLS CARE
Health care in country areas is not up to capital city standards.
Watch out! Speak up! You're next.
You may need your rural hospital one day and you need to speak up now to see it improves and continually improves. You won't offend your town, you will save its people.
Here's just a few examples of maladministration and poor patient care:
DUBBO, NEW SOUTH WALES
From a walk at Manly to amputation – hospitals 'putting lives at risk'
No food or Panadol: anger over 'third world' conditions before hospital death
COBAR, NEW SOUTH WALES
A hospital turned him away three times. Then 2.5m of his bowel 'died'.
MARYBOROUGH, VICTORIA
Maryborough Hospital alleged maternity safety breaches linked to potentially avoidable death of unborn baby