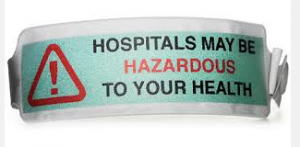 Off to hospital?  GET A WATCHDOG!
There's no place for passive patients in today's health system.
Medicine is profit-driven. Today's doctors over-prescribe surgery and ignore its long-term health implications. Any invasive medical procedure creates inflammation in the body, leading to serious and long-lasting health problems.  
That's one thing to deal with.  The other is avoiding medical error.  Wise up! Don't book your brains out at the door when going off to hospital.  You need to ask questions BEFORE.
There are questions you MUST ask, including the most important for survival. For these answers and more, don't leave home without our SURVIVE HOSPITAL PACK, it includes heaps of vital save-your-life tips, such as…
25 questions you must ask before admission to hospital
Get fit for the knife
Men!  Take charge of your healthcare
How to improve your care
How to survive a hospital stay
What hospitals won't tell you
10 rules for minimizing medical errors
Watch out for that bacteria-laden equipment coming your way
Radiation fall-out:  Is your next scan safe?
Know hospital pathology ordering processes
Women!  Prevent UTI post-op gynae surgery
Dangerous medicines mistakes
How safe is your prescription?
The most shocking medical mistakes
How to stop hospitals killing us.