For over two decades Medical Error Action Group has monitored nursing homes – death homes – and it's a horror story right across the nation. "Functioning" on political promises does not work.
Politicians!  Time to fix this disgraceful system. It's not care, it's hell.
YOU may have someone in your family in need of a nursing home.
If so, God help them because Australia's aged care system won't.
GO TO POLICE if your complaint is ignored.
15 years ago Medical Error Action Group logged 83 breaches in nursing homes of shocking neglect, maltreatment and filth from concerned families and nursing staff.
5 years ago Medical Error Action Group logged 427 breaches in nursing homes, some the same nursing homes we had reported on 10 years earlier.  Our findings? Nothing had changed it had worsened.
Read more of the nursing home murderer and serial killer in the Herald Sun's special report | Jan 2015
Nurses conduct 'giggle-fest' at Coroner's Court | Feb 2014
BODINGTON Nursing Home at Wentworth Falls, in the Blue Mountains of New South Wales, became the subject of a Coroner's Inquest after a resident died following an alleged overdose of morphine by a registered nurse.  The resident, 84-year-old Mrs Sybil Zimmerman, died on 15 May 2011 after being transferred by ambulance in a comatose state to the Blue Mountains District Hospital in Katoomba.
Current and past nurses in the employ of BODINGTON Aged Care Facility conducted themselves in a contemptible manner.  Flippantly failing to comprehend that the inquest related to the circumstances of a person's death, a person under their supposed "care".
Not only were the nurses and their companions discussing the evidence in loud whispers disrupting the public gallery, they, after the Coroner had ordered nurses who had not given evidence to leave the courtroom, went on to feed evidence being heard to their companion nurses outside the courtroom at regular intervals. The conduct of the nurses and their intimidatory tactics were reported to the Registrar of the Coroner's Court.
On the 4th day of Inquest, a number of nurses deliberately and intentionally engaged in intimidatory behaviour by spreading themselves around the public gallery including sitting with and surrounding the deceased's family whilst one family member was waiting to complete giving evidence.
The Coroner interrupted proceedings to address the Court about the conduct and reactions of nurses and that their 'ripples of laughter' throughout the courtroom were unacceptable.  They were reminded that their 'presence in the courtroom be mute'.
The disruptive conduct by RN Rosemary CHAPLIN, RN Elizabeth HANDLEY, RN Charlotte TILY and RN Linda VERITY, carer Mary PINKERTON, three of their counterparts from BODINGTON Nursing Home, plus several companions, was ordered to cease.
Disrespecting the sanctity of the Court, the nurses' had scant regard for court protocols.  Their delinquent behaviour illustrated how they conduct themselves in their day-to-day nursing jobs. 
CATHOLIC HEALTHCARE
HOSPITALS – the 'catholic drop' deaths to free up beds
NURSING HOMES – overdose deaths to keep costs down
→NEFARIOUS ADMINISTRATION←
The name of the game is COVER-UP.
Lie, lie, lie, deny, deny, deny…
Catholic Healthcare?  Catholic Wealthcare more like it.
Nursing home death cover-up | 19 Dec 2013
VICTORIA:  A Melbourne nursing home covered up the death of one of its residents then fired a whistleblower carer, Coroner Heather Spooner said.
Caterina Montalto stumbled and fell into a fountain in a courtyard at the ARCARE HAMPSTEAD Aged Care Facility in Maidstone, Victoria, where she lived in the dementia unit, in May 2011.  The 76-year-old's body was not discovered for 50 minutes and her death was not reported to the coroner.  Her family was told she was found in the courtyard and died from a heart attack.  Her doctor, Liliana Elberg, was also told Mrs Montalto was found next to the courtyard fountain.  But CCTV footage showed that Mrs Montalto stumbled, fell and was immersed in water. 
Coroner Spooner said accounts from some of the ARCARE staff were competing, inconsistent, sometimes unedifying and in one case "verged on the absurd".  She said Mrs Montalto had been moved from the fountain to her room where she was dried and changed into fresh clothes before the family arrived.  The death of Ms Montalto was complicated by breaches of policy and procedure, she said.  "Indeed the actions of some staff amounted to little more than a cover-up with Dr Elberg being called to attend the facility and certify the death of her patient without being fully informed by staff of all that had actually occurred," Coroner Spooner said.  "It was only as a result of the courageous act of a young carer speaking up to her union that the unusual reportable circumstances surrounding the demise of Mrs Montalto were uncovered."
Whistleblower Susan Mutami first saw Mrs Montalto from an upstairs window of the facility and later spoke out to her union about the incident, but was fired by facility manager Catherine CONDON.  "She was sacked by Ms CONDON on the basis that her probationary period had proven unsuccessful; in effect for an alleged breach of confidentiality in speaking up regarding the truth about the death," Coroner Spooner said.
ARCARE VICTORIA state manager John Moore said in a statement that established processes were not followed on the day.  He said rather than blame individuals the company had reviewed and improved its structure.  
AAP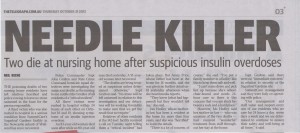 31 October 2013
Two doctors may face HCCC after nursing home death | 23 Oct 2013
NEW SOUTH WALES:  A Coroner has recommended that two GPs be referred to the Health Care Complaints Commission (HCCC) following the death of an 88-year-old nursing home patient in 2009.
The Illawarra Retirement Trust, which runs the WILLIAM BEACH GARDENS Aged Care Facility near Dapto NSW, was also heavily criticised in a report handed down last month by Deputy State Coroner Geraldine Beattie.  According to the report, Jean Boyd died at Wollongong Hospital of "E.coli septicaemia and congestive cardiac failure caused by an adult respiratory distress syndrome, acute renal failure, hypotension and recurrent urosepsis and pyelonephritis".
Despite Ms Boyd's GP, Dr Myrna JOVER, having prescribed antibiotics for a urinary tract infection, the medications were not administered for two days, four days after the infection had first been detected by staff, at which point her condition had deteriorated considerably.
The report noted that Dr JOVER's instructions to facility staff for the ongoing treatment and monitoring of Ms Boyd was limited to the administering of antibiotics and that the GP had failed to read relevant notes, mentioning a recent history of abdominal pain and delirium.
The coroner was also critical of Dr JOVER's apparent failure to follow up on Ms Boyd's condition and her response to treatment.  A second GP, Dr Deepak RAJA, who was called days later by staff due to concern over Ms Boyd's increased level of pain, was found by the coroner to have failed to adequately examine and treat Ms Boyd.  The coroner also expressed concern that Dr RAJA failed to recognise any need for Ms Boyd to be hospitalised.  The report found the lack of available staff during certain periods and their training and expertise contributed to an overall failure of care.  Ms Boyd was hospitalised four days after Dr JOVER's visit after family insistence. She died three days later.
The coroner recommended to the NSW Crown Solicitor's Office that the GPs be referred to the HCCC for investigation.  She recommended that the centre operator review the means by which GPs were involved in residents' care, and that further staff training be sought.  A review of staff-to-patient ratios was also requested. 
Aged care nurse made patient beg on all fours for cigarette | 25 Sept 2013
SYDNEY:  Aged care nurse, Andrew James DAVIS, who made a dementia patient beg on all fours for a cigarette and treated three other dementia patients with "an attitude of disrespect and disregard", is still working as a nurse after a professional misconduct finding.
RN DAVIS also laughed at a 99-year-old woman as she sucked his thumb, put his hand down an 82-year-old man's pants near his genitalia, and tried to kiss an 84-year-old man on the forehead and called him "daddy", the Nursing and Midwifery Tribunal of NSW found.
But after finding most of the complaints about RN Davis had been proved, the tribunal allowed him to keep working with conditions until a separate hearing in relation to protective orders. That hearing is scheduled to begin in November.  In the meantime, RN DAVIS, who the tribunal said was employed at an aged care facility in Maclean, NSW, may not work in a residential aged care facility, a geriatric ward in a hospital, a mental health facility, or with children.
The complaints stemmed from RN DAVIS' employment at Bupa Bexley Aged Care Facility in Sydney from 2009 to early 2011 when he was dismissed following a report about his actions in relation to a 64-year-old patient who had a history of alcohol-related neurological damage and a heavy dependence on nicotine.
On more than four occasions during night shifts, RN DAVIS admitted to making the man beg on his hands and knees and said to the man words to the effect "can you beg for a cigarette?", the tribunal said.
It found RN DAVIS had also said "can you sit on the floor?" and "can you kiss the floor?", although RN DAVIS denied those details. It found he continued to laugh at the patient as he begged for a cigarette as other nursing staff told him to stop.  RN DAVIS had claimed other nursing staff also laughed and denied that they told him to stop.
"I just thought it was funny. I know it was not appropriate. I am admitting this to you now. I am ashamed of my behaviour," the tribunal said RN DAVIS had said.
"The number of residents involved in these issues and the repetitive nature of his actions towards each of these residents cannot be attributed to a lack of clinical knowledge as even the most inexperienced nurse would understand that these actions were, at best, inappropriate," the tribunal found.
"Rather than a knowledge deficit, RN DAVIS' actions demonstrate an attitude of disrespect and disregard for older people, their welfare and the duty of care he had to them."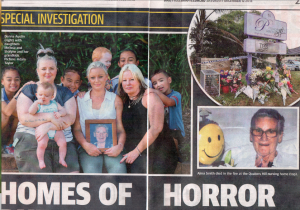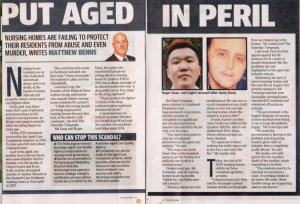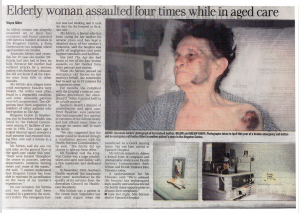 Vicious serial killer Peter Dupas is the beast who roamed free to rape and kill | 21 Dec 2012
Read The Herald Sun's special report
ACCREDITATION AND STANDARDS FOR NURSING HOMES?
Plenty of accreditation but no standards!  
The Accreditation Agency informs the nursing home of its intention to visit, giving them prior warning to "clean up" and "shape up" guaranteeing their accreditation for another year.  If it weren't such an abhorrent situation, it would be laughable.  
Asylum seekers get better treatment than our elderly — our Mums and Dads and their Mums and Dads — who have paid taxes all their lives to be discarded to the scrapheap when no longer paying tax.  Shame on every Australian government.  
Register your disgust to your federal Member of Parliament today! That is, if he/she'll listen.