---
1999
ACCORDING DUE WEIGHT
Report to the Victoria Attorney-General and State Coroner of Victoria | Authors Isaac Hermann and Lorraine Long
PARLIAMENTARY INQUIRY INTO NEW SOUTH WALES HEALTH CARE COMPLAINTS COMMISSION (HCCC)
Submission November 1999: NSW Legislative Council
2000
MEDICAL ADVERSE EVENTS AND THE CORONIAL EXPERIENCE OF FAMILIES
Report to State Coroners of VIC, NSW, SA, WA
CORONIAL SYSTEMS AUSTRALIA-WIDE AND THEIR BENEFITS
Report to Standing Committee of Attorneys-General
THE IMPORTANCE OF THE NATIONAL CORONERS INFORMATION SYSTEM [NCIS] AND THE DEVELOPMENT OF A SPECIALIST "MEDICALS" MODULE 
MEDICAL ADVERSE EVENT DEATHS: THE DATA 
THE AGED AND MEDICAL ADVERSE EVENTS: A PARADOX OF CARE 
MEDICAL ADVERSE EVENTS AND FAMILIES
Written for the Australian Council for Safety and Quality in Health Care
Report to Federal Minister for Family and Community Services
Report to Federal Minister for Health and Aged Care 
MEDICAL ADVERSE EVENTS AND ACCESS TO JUSTICE
Report to Federal Minister for Family and Community Services
Report to Federal Minister for Health and Aged Care 
QUEENSLAND DRAFT CORONERS BILL 2000
Submission December 2000: QLD Attorney-General
---
2001
MEDICAL INDEMNITY: WHAT ABOUT THE FAMILIES?
MEDICAL BOARDS, NATIONAL STANDARDS, TORT LAW AND MEDICAL REFORM | Author Bruce Findlay 
INQUIRY INTO MATTERS ARISING FROM THE POST MORTEM AND ANATOMICAL EXAMINATION PRACTICES OF THE NSW INSTITUTE OF FORENSIC MEDICINE
Submission May 2001: NSW Attorney-General
MEDICAL ADVERSE EVENTS AND DEATH CERTIFICATES: THEY  DON'T ADD UP | Author Lorraine Long
How causes of death are covered-up and death stats rigged
2002
INHOSPITABLE HOSPITALS: HOW THEY PERFORM
Logging 9,139 errors involving 224 hospitals over 36 months
Top 40 error-prone hospitals and 40 neglectful nursing homes
THE "ROLLER COASTER" DEATH AND INJURY FIGURES
Fanciful figures for the medical error dead and injured are generated by health bureaucrats and no one challenges the discrepancies. The August 2001 figures may inadvertently slow the patient safety movement by suggesting the problem isn't so bad after all.
A RESCUE PACKAGE FOR PATIENTS TO AVOID LITIGATION
Submission #1 February 2002: "Medical Indemnity Crisis"
Report to Federal Minister for Health and Aged Care
Report to the Prime Minister, all Ministers for Health, Australian Medical Association
Submission to Treasury: "Review of the Law of Negligence"
A RESCUE PACKAGE FOR PATIENTS, DOCTORS, HOSPITALS AND GOVERNMENT TO AVOID LITIGATION | Author Lorraine Long
Report to the Prime Minister, all Ministers for Health, Australian Medical Association
As discussed on ABC Lateline with Tony Jones and Lorraine Long 
Submission to Treasury and Federal Minister for Revenue and Assistant Treasurer
Submission #2 May 2002: "Medical Indemnity Crisis"
Prime Minister's Medical Indemnity Task Force
Submission #3 August 2002: "Medical Indemnity Crisis"
To Treasury "Review of the Law of Negligence"
2003
AUSTRALIAN HOSPITALS: MONITORING THEIR PERFORMANCE
Logging 2,989 errors involving 211 hospitals over 12 months
National ranking 50 error-prone hospitals 2004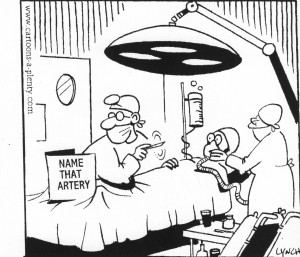 2004
SENATE INQUIRY INTO HEPATITIS C AND BLOOD SUPPLY IN AUSTRALIA
Submission 23 January 2004: Australian Senate

INHOSPITABLE HOSPITALS: THE BLACK LIST
Logging 1,638 errors at the top 40 error-prone hospitals

PARLIAMENTARY INQUIRY INTO COMPLAINTS HANDLING PROCEDURES IN NSW HEALTH
Submission March 2004: NSW Legislative Council
SPECIAL COMMISSION OF INQUIRY INTO CAMPBELLTOWN AND CAMDEN HOSPITALS
Submission June 2004: Commissioner Bret Walker SC (NSW)

UNDER-PERFORMING NURSING HOMES
Listing 85 nursing homes for third world care
2005
VICTORIA LAW REFORM CORONERS' ACT 1985 DISCUSSION PAPER
Submission May 2005: Victoria Parliament
http://www.parliament.vic.gov.au/images/stories/committees/lawrefrom/coroners_act/submissions/Coroner_7_-_Medical_Error_Action_Group.pdf
BUNDABERG HOSPITAL COMMISSION OF INQUIRY QUEENSLAND
Assistance May June July 2005: Commissioner Anthony Morris QC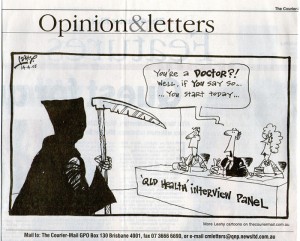 2006
INHOSPITABLE HOSPITALS
Logging 2,468 errors at 197 hospitals
Listing 100 error-prone hospitals
2007
OUR CARING INSTITUTIONS AT WORK
Snapshot of 36 cases of bungling around Australia

10 YEARS MONITORING HOSPITALS – WHICH IS THE WORST HOSPITAL IN AUSTRALIA?
Blockbuster edition
---
2008
NSW MEDICAL PRACTICE ACT CHANGES AND THE 'O'CONNOR REPORT'
Submission to NSW Minister for Health the Hon Reba Meagher MP and the Hon Justice Deirdre O'Connor [retired 2002 Federal Court] on amendments to the Medical Practice Act 1992
---
2010
INHOSPITABLE HOSPITALS:  FROM SLIP-UPS TO MANSLAUGHTER
2012
THE ROLE OF GOVERNMENT AND THE THERAPEUTIC GOODS ADMINISTRATION (TGA) REGARDING MEDICAL DEVICES, PARTICULARLY POLY IMPLANT PROTHÈSE (PIP) FRENCH BREAST IMPLANTS
Submission April 2012: The Australian Senate Standing Committee on Community Affairs | Authors Lorraine Long and Charles MacKenzie
NOTE: The Senate slapped a privacy injunction on our submission. The truth too hot to handle!  "The Committee" had to protect itself from further embarrassment as its "expert medical advisor" had inserted the dud PIP implants into his patients.  Conflict of interest an understatement.
---

TO COME!
WHAT PATIENTS AND THEIR FAMILIES HAVE TO SAY… BE IN THE SURVEY
Compelling reading for hospital administrators and health departments.  Hear what patients have to say on what's wrong with our hospitals and the health complaints process, the cause of most trauma, plus solutions how hospitals can be improved from patients' perspectives.