Health risk for women – call to remove implants | 8 Apr 2013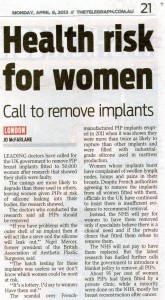 Elijah needed antibiotics at first hospital: doctor | 4 Apr 2013
http://www.heraldsun.com.au/news/national/elijah-slavkovic-needed-antibiotics-at-first-hospital-doctor-says/story-fndo317g-1226612002112

Bungling doctors face criminal charges | 1 Apr 2013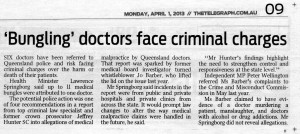 Disgraced doctor's victim outraged by appeal | 28 Mar 2013
http://www.smh.com.au/nsw/disgraced-doctors-victim-outraged-by-appeal-20130327-2gupx.html  
—
27 March 2013            25 March 2013
—
Regional GP found guilty of professional misconduct | 22 Mar 2013
A NSW GP anaesthetist who admitted to a range of failures relating to infection control measures at a regional clinic has been found guilty of both unsatisfactory conduct and professional misconduct.
The Medical Tribunal of NSW heard that during May 2010, a number of patients who attended the clinic in Warrawong – near Wollongong – for gastroscopy procedures developed symptoms associated with sepsis and required admission to hospital following their discharge from the clinic.
The NSW Health Care Complaints Commission (HCCC) alleged Dr Peter Sau Onn Chang committed breaches of infection control standards including failure to perform appropriate hand hygiene and the routine sharing of ampoules of two Schedule B drugs – pethidine and fentanyl – between patients.
The HCCC complaint – upheld by the tribunal – also detailed the GP's failure to ensure equipment was used exclusively, failure to ensure he had access to resuscitation equipment, his unsecure storage of drugs of addiction and the keeping of inadequate patient records.
As well as reprimanding Dr Chang, the tribunal placed conditions on his registration including that he not administer any anaesthetics including intravenous or intramuscular sedation for non-analgesic purposes.
22/03/13 | Medical Observer
—
Anaesthetist jailed for infecting patients with hep C | 7 Mar 2013
7 March 2013 Updated 24 minutes ago
A former drug-addicted anaesthetist who infected 55 patients with hepatitis C has been sentenced to 14 years in prison.
James Peters, 63, pleaded guilty to negligently causing injury to 55 women who attended a Croydon abortion clinic between June 2008 and November 2009.
The judge said Peters was professionally disgraced, deregistered and socially isolated because of his hopeless addiction to narcotics, which could be traced back 18 years.
The court heard Peters would inject himself with the drug Fentanyl before using the same syringe to administer the drug on his patients.
The judge said criticism of the Medical Practioners Board for allowing Peters to practice and not testing him for his drug of choice was justified.
Outside court, lawyer Julie Clayton spoke on behalf of victims who are now taking civil action against Peters, the Medical Practioners Board and the clinic.
"Today has bought some welcome degree of closure knowing Peters is in jail and won't be released for a long time," she said.
"For others, the sentence doesn't bring comfort as they are left with some unanswered questions – how could this be allowed to happen in Victoria in the 21st century?"
Peters will serve a minimum of 10 years before being eligible for parole.
 07/03/13 | ABC News
22/02/13 | The Sydney Morning Herald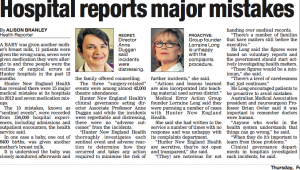 07/02/13 | Newcastle Herald
—
A SECRET investigation is under way into how a woman who went to hospital for routine knee surgery died an agonising death because of a clerical error.
The State Coroner heard how it took seven days for bungling hospital staff to discover they had made two separate medical charts for the woman, with paracetamol medications ordered and administered on both.
Five doctors and four nurses are reportedly under investigation by the secretive Australian Health Practitioner Regulation Agency.
The case was referred to AHPRA by Queensland's Health Quality and Complaints Commission, which investigated the scandal after a coroner's request.
The woman's death is a tragedy the so-called watchdog agencies do not want you to read about.
They declined to provide details. The woman's identity is unknown and the name of the hospital was suppressed.
The investigation was so secret Health Minister Lawrence Springborg didn't know about it and senior staff from his office were rebuffed when they sought details from the HQCC.
A cover-up continues, with Queenslanders – and Parliament – not told whether those responsible were admonished.
It is known that a confidential investigation ordered by the HQCC concluded the medical team at an unnamed Brisbane hospital showed "disregard for basic medication safety practices".
The HQCC would not release the damning report, even to Mr Springborg. The so-called medical watchdog would not even say who conducted the inquiry.
The case highlights the lack of accountability and transparency in the medical industry and the treatment of negligence allegations.
A brief "case study" tabled in Parliament said the tragedy began when a woman went to hospital for an elective total knee replacement.
"Three days after surgery the woman became unwell," it said.
"She had not had a bowel motion after the operation and was experiencing persistent nausea and vomiting.
"The woman was diagnosed with a partial bowel obstruction.
"A nasogastric tube was inserted to feed her (so she was nil by mouth) and she was given intravenous (IV) fluid therapy and a blood transfusion.
"Over the next three days, the woman's condition improved and an oral diet was gradually re-introduced.
"Two days later the woman developed signs of another bowel obstruction, including vomiting, abdominal distention and pain . . . and she became increasingly dehydrated.
"After another two days, a nurse discovered that the woman had two separate medication charts, with paracetamol-based medications ordered and administered on both.
"The woman had therefore inadvertently received excessive amounts of paracetamol throughout the post-operative period.
"She was immediately started on treatment for paracetamol toxicity but her condition continued to deteriorate."
Near death, her family members elected to cease active resuscitation and she died shortly after.
"A coronial autopsy found the woman died of multiple organ failure due to, or as a consequence of, drug toxicity, predominantly paracetamol," Parliament was told.
With the help of an independent clinician the HQCC reported a "concerning pattern of disregard for basic medication safety practices across health professions".
12/12/12 | The Courier-Mail
What doctors don't know about the drugs they are prescribing | Sept 2012
FOR SERVICES TO MEDICAL MALADMINISTRATION FOR 20 YEARS
Dr Joanna Mary FLYNN AM  
of VIC Medical Practitioners Board & Medical Board Australia
2011 awarded Member of the Order of Australia for:
"Service to medical maladministration and to the community, particularly in the areas of malpractice standards, irregulation, cover-ups, non-professional education and as a general malpractitioner."
Dr Andrew Edward DIX AM
of NSW Medical Board, Registrar & Chief Executive Officer
2010 awarded Member of the Order of Australia for:
"Excellence in medical maladministration through contributions to the regulation of non-professional and malpractice standards."