Read about the medical establishment's "performances" in over 375 pages of reports, findings and judgments, highlighting the failure by regulatory authorities just to do their job. 
Find out if your doctor, surgeon, anaesthetist, nurse, hospital or dentist is on this list.  It's continually being expanded.
You name it — from the reckless, inept and unhygienic, to fraudsters, liars, malicious, morally corrupt killers, drug thieves, drug addicts, sexual deviants, and murderers, to the plain evil — they're on the list. 
PLUS:
From slip-ups to negligence to manslaughter

How many "Killer Shipman's" are there in Australia?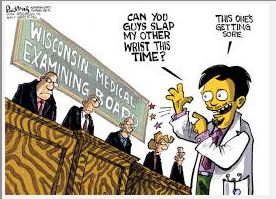 Off to hospital? Find out how best to SURVIVE A HOSPITAL STAY!
Medical negligence happened to you?  Get our  INFORMATION PACK